Time is a scarce commodity; we spend our time running around trying to get everything our never-ending list done. Gardening is no exception to this mad rush: more and more clients are asking for maintenance-free gardens, easy plants that don't require care. First of all, it is important to know that a garden without any maintenant does not exist. There is always a minimum to do: weeding, cleaning, watering, pruning or cutting back… but if you want to have beautiful, well-stocked flowerbeds with the least amount of time invested, here are some easy-to-grow perennials that require very little maintenance and will last a long time.
Rudbeckies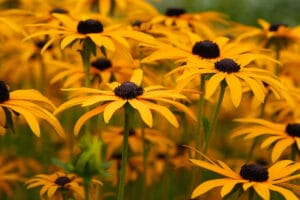 With their beautiful golden yellow flowers topped by a contrasting black center, rudbeckia bloom profusely from July to September in full sun to part shade. Just remove the faded flowers and cut back the foliage in spring or fall. Their cousins, echinacea, are also rather easy to grow. You can even keep the dried flowers during the winter. Beautiful even in the snow!
Daylilies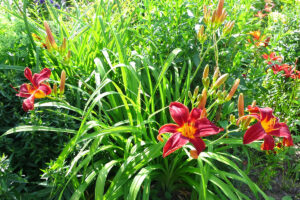 Daylilies are often found in the wild along roadsides or in ditches, proving that they are very easy to grow. Their beautiful orange, yellow, pink or red flowers stay open for only one day, but since the plant is very floriferous, you can't even tell. Even the foliage, drooping like a fountain, is interesting in daylilies. Bonus: the young shoots and flowers are edible.
Hostas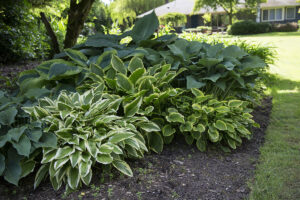 If you have a shady spot, hostas are the way to go! It's the bright, colourful leaves of hostas that make them so interesting. Hostas are tolerant of just about anything and you can easily divide them to control their size.
Calamagrostis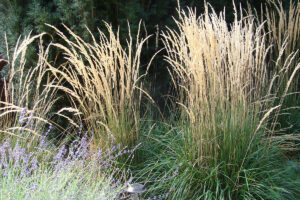 Calamagrostis is an easy, hardy ornamental grass. Its large, thin leaves look like ears of wheat dancing in the wind. Calamagrostis tolerates light shade, but it is in bright sunlight that it shows its best side. Ideal for creating a screen or defining a space.
Perennial sage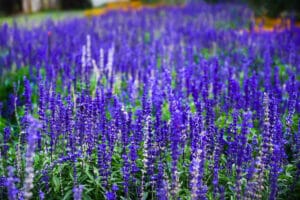 With its beautiful blue or purple flowers, salvias are robust and require practically nothing. They can stay in one place for a long time without having to be divided. Place them in the sun to encourage maximum flowering. It is not uncommon to see them in open areas as they tolerate drought and hot sun. They are an excellent pollinator and bees love them.
For more suggestions of plants that are easy to grow and maintain, visit our nursery!